ESTABLISHED IN 1990, THE TEMAR TRADING AND SERVICE COMPANY SPECIALISES IN IMPORTING A WIDE RANGE OF DAIRY PRODUCTS FROM ALMOST ALL EU COUNTRIES. SINCE THE BEGINNING, WE HAVE BEEN DISTRIBUTING MAINLY BLUE CHEESE, HARD CHEESE, FRESH CHEESE AND MANY OTHERS. WE ARE A THREE-GENERATION COMPANY WITH EXCLUSIVELY POLISH CAPITAL.
IN ADDITION TO OUR HEAD OFFICE IN KATOWICE, WE ALSO HAVE A BRANCH IN WARSAW. WE HAVE OUR OWN SPECIALISED DELIVERY TRUCKS ADAPTED FOR REFRIGERATED TRANSPORT, AS WELL AS USING PROFESSIONAL LOGISTICS COMPANIES. WE REACH ANY PLACE IN POLAND, AS WELL AS THE BALTIC STATES (LITHUANIA, LATVIA AND ESTONIA). WE SUPPLY THE LARGEST POLISH AND WESTERN EUROPEAN RETAIL CHAINS AS WELL AS SPECIALISED DAIRY WHOLESALERS DISTRIBUTING OUR PRODUCTS TO RETAIL OUTLETS. BY MAINTAINING DAILY CONTACT WITH OUR CUSTOMERS, WE PROVIDE THE BEST COMMERCIAL AND LOGISTICAL SERVICE AND TRY TO SELECT OUR ASSORTMENT SO THAT IT IS AS DIVERSE AS POSSIBLE AND THE QUALITY OF THE PRODUCTS IS THE BEST, AS EVIDENCED BY THE BRANDS OF THE PRODUCTS DISTRIBUTED. TO MEET MARKET NEEDS, WE HAVE ALSO LAUNCHED A LINE FOR THE PACKAGING OF BLUE AND SEMI-HARD CHEESES, PROVIDING CUSTOMERS WITH READY-CUT AND PACKAGED CHEESES WITH A WEIGHT AND PRICE LABEL.
IN THE COMING YEARS, WE PLAN A NUMBER OF INNOVATIVE ACTIVITIES TO MEET THE NEEDS OF THE COMPLEMENTARY MARKET, TOGETHER WITH THE EXPANSION OF DISTRIBUTION IN NEIGHBOURING MARKETS. WE HAVE ALSO PLANNED INTENSIVE DEVELOPMENT AND INVESTMENT IN TECHNOLOGICAL SOLUTIONS WITH FURTHER INNOVATIVE PACKAGING VERSIONS.
1990
/
START OF IMPORT AND DISTRIBUTION OF SEMI-HARD AND HARD CHEESES
1991
/
EXPANSION OF PRODUCT RANGE TO INCLUDE BLUE CHEESE.
2001
/
START OF IMPORT AND DISTRIBUTION OF FRESH CHEESES.
2004
/
START OF COOPERATION WITH BOSKA HOLLAND - LEADER IN BOOTH FURNISHINGS IN THE NETHERLANDS
2008
/
START OF IMPORT AND DISTRIBUTION OF SOY PRODUCTS.

Rozpoczęcie współpracy z holenderską firmą Boska Holland – liderem w wyposażeniu stoisk firmowych
2009
/
INTRODUCTION OF ORGANIC PRODUCTS TO THE RANGE.
2010
/
EXPANSION OF PRODUCT RANGE TO INCLUDE MINUS L LACTOSE-FREE PRODUCTS
2014
/
ACQUISITION OF CANDIA POLSKA SP. Z O.O. AND EXPANSION OF THE PRODUCT RANGE TO INCLUDE MORE DAIRY PRODUCTS (JULY).
2017
/
START DISTRIBUTION OF PACKAGED WEIGHTED CHEESES - FRESH PACK PROJECT.
We reach every place in Poland and Europe
We supply the largest Polish and Western European retail chains and about 120 (mostly dairy) wholesalers, distributing our products to retail outlets.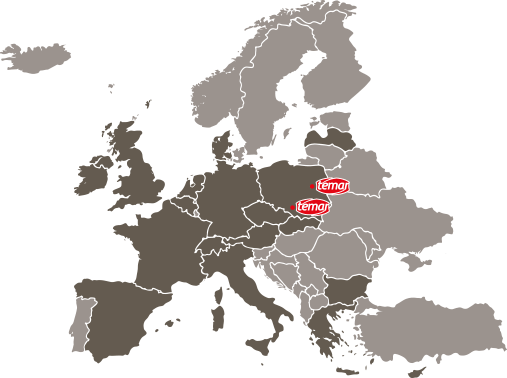 Become our partner

EUROPEAN CHEESE DISTRIBUTOR / DAIRY DISTRIBUTOR / CHEESE DISTRIBUTOR / EUROPEAN PRODUCTS / EUROPEAN DAIRY / DAIRY EXPORTS / ITALIAN CHEESES / FRENCH CHEESES SPANISH CHEESES / CHEESES FOR THE GASTRONOMIC INDUSTRY